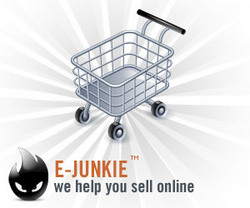 If you are a band, DJ, Remixer, comedian etc… you should be selling your own MP3s.  iTunes, Android's new music store and Amazon MP3 Store are all great and fantastic and you NEED TO USE THEM!
However, your website, Facebook page or even MySpace page (does anybody use MySpace any more?) needs to sell MP3s directly!
Don't stop using iTunes and the other sites, but you are preventing yourself from selling straight to your listener and keeping 100% of the profit.
That's why you should use E-JUNKIE to sell MP3s.  It cost something like $5 a month and they handle all the payments and such.  You just upload your MP3 and they give you a link.  You then you paste that link onto your website or Facebook and E-Junkie does everything for you.  You don't have to worry about credit cards, payments or sending your MP3.  You could even upload a zip file of all your MP3s and sell an entire album or anthology.
This is super cool for "Self Help" programs, indie musicians, comedians and for people selling their own books on tape.  It's also great if you want to sell photos or home movies.
Some people that don't have a website are even selling their stuff right on Craigslist
I use it and love it!  If you sell your voice or words,