This is my personal opinion.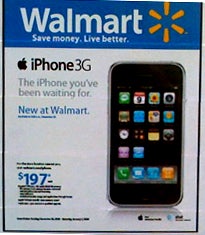 Buy Apple Stock! Buy it Now before the Walmart rumors turn into fact!
The rumors are that you can buy the iPhone (soon) for $2 off. While that could mean a huge jump in iPhone sales (at least 10-20%) there is another rumor that's circulating.
Rumor: Walmart will sell a 4 gig iPhone for $99!
That's huge! All of a sudden, even high school and college kids can afford it without help of their parents (well at least until they get their first bill).
This could push the iPhone from being the #1 Smartphone to being the #1 phone! Buy Apple (aapl)!